Are you frustrated on the green?
Are you lacking consistency in your putting?
Does your ball slide or hop at the moment of putter contact?
Is it difficult to determine the distance that your ball will roll after contact?
Does your ball seem to wobble as it's rolling toward the hole?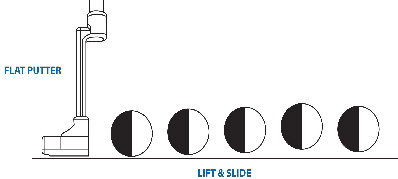 It might not be your fault!
It's not You. It's your putter!
When a ball is struck by a conventional flat faced putter, backspin is imparted to the ball. This results in the ball initially sliding the first few feet of its path until friction with the grass causes the ball to roll. This process causes an instability for the ball which leads to an inaccurate putt. The ball will skid, slide, wobble and hop, making it impossible to stay on line and for you to judge the distance.

"The Slide & Hop" = Missed Putts